If you have an existing dental practice, you will want to ensure that the care you give to your patients is foremost in the mission of your business. Regardless of whether you are doing it solo, or you are managing an entire clinic with many patients, you need the help of an IT services company, so that you can render your services more efficiently and effectively.
Podium IT is a company that provides IT and managed services to various companies including dental practices in Melbourne; and we work remotely in managing your IT infrastructure and user system. As such, we offer the following services for your business.
– maintain your computers and other hardware
– update and install software
– monitor your network
– install security patches
– data backup
– network and data security
– help desk support, and more.
We propose to handle the technology aspect of your practice, as we want to allow you more free time to care for your patients. For every job that we take, we will always make sure that all the information on your dental practice is secure and that your hardware is well maintained. We are aware of the IT requirements of all health care practitioners, as we service many practices across Australia.
Knowing that every clinic practice has different IT needs, Podium IT will tailor a package that will suit your requirements, whatever the size of your clinic. We can fit our medical and dental IT services to your unique needs and at the same time follow industry regulatory and compliance guidelines.
While taking all your technological needs into account, we take a personalised approach to our offered services and aim to work in partnership with you. We want to create a comprehensive dental IT service for you, whether it's about a specific IT solution or a long-term service partnership.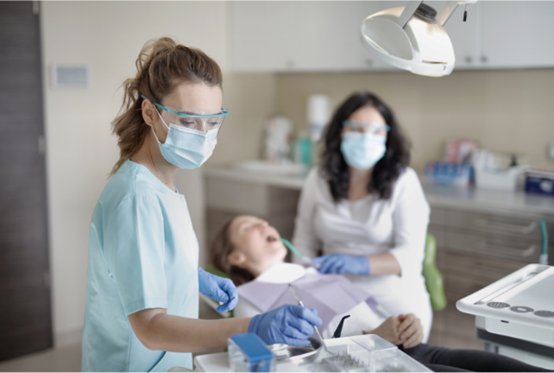 We have a team of highly trained technicians and IT experts waiting to give you the best assistance, from maintaining your computers to creating a detailed security system. With us, the high-quality patient care that you provide can remain as your top priority.
Podium IT ensures that your data and network are protected. Patients' files and information are sensitive in nature, and we understand and ensure we protect the data securely. With our experience in the industry, we understand the guidelines and regulations to ensure that happens. While you, as a health care provider, has a legal obligation to protect the health information of your patients, we will provide you with comprehensive security measures to give you that assurance.
Cybercrime and data theft are serious threats to your dental practice. We assure you that Podium IT will work with diligence to secure your network and safeguard your data. You can feel comfortable in the fact that you can direct your focus on caring your dental patients while we concentrate on IT.
All your dental IT services that you need, we can provide them for you, including dealing with malfunctions and data recovery after a system crash.
You can contact us for a quote, advice, or information on (03)-8578-3077 or speak with one of our friendly and accommodating team who will be happy to discuss with you how you can achieve your goal for your dental practice. You can also visit us at https://podiumit.com.au.
We service right across Melbourne suburbs and the Sunshine Coast.